Strengths and limitations of PSMA PET: When to use it (and when not to)
Posted on

November 26, 2021

in News
The prostate-specific membrane antigen positron emission tomography (PSMA PET) scan is the (relatively) new kid on the block in the field of prostate cancer (PCa) imaging, and, as with all newcomers in the field, there is much to be studied and discussed. "Plenary Session 1: Prostate cancer staging in 2021: Where are we, where are we going?" on the second day of the 13th European Multidisciplinary Congress on Urological Cancers (EMUC21) did exactly that with Dr. Stefano Fanti (IT), Prof. Tobias Maurer (DE), and Dr. Jochen Walz (FR) as its speakers.
Nuclear medicine physician Dr. Fanti kicked off the session with his state-of-the-art lecture "Strengths and limitations of PSMA PET for primary staging." "To every extent, PSMA PET has been a gamechanger," Dr. Fanti said. "Today, PSMA PET is widely used in many situations all around the world."
"As for the use of PSMA PET in PCa staging, some papers really made a difference. One of those was an Australian prospective, randomised, multicentre study, which clearly demonstrated that PSMA PET was superior to conventional imaging in patients with high-risk PCa."
"The 2022 EAU Guidelines on Prostate Cancer will recommend using PSMA PET or a whole-body MRI in high-risk patients to increase the sensitivity," Dr. Fanti continued. "The guidelines will emphasise the very important limit of the lack of outcome data on subsequent treatment changes. PSMA PET is more accurate than CT and a bone scan, but we don't know if there will be an impact on overall survival. And we know that a better accuracy does not necessarily mean better outcomes. Having said that, there's a strong rationale behind using PSMA PET in patients with high-risk disease."
Dr. Fanti concluded, "PSMA PET is a robust imaging methodology, non-invasive and patient-friendly, with a clear procedure and a wide availability worldwide. It will have a further role in staging high-risk patients."
Debate
In the following debate, Prof. Maurer and Dr. Walz answered the question of whether PSMA PET should have an impact on the treatment of newly diagnosed PCa: yes (Prof. Maurer) or no (Dr. Walz).
Prof. Maurer asked his audience, "Do we know whether PSMA PET leads to better outcomes? Most of you will say, 'We don't know that,' and for the most part that's true. But I will show you a specific scenario in which I believe PSMA PET already makes a difference today." He went on presenting the slide below.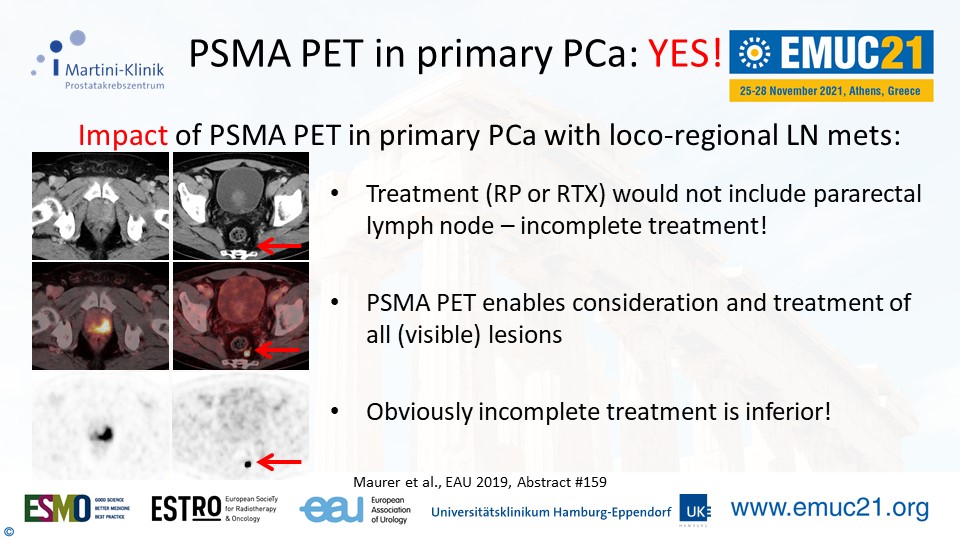 "My recommendation is to consider PSMA PET in the cases of unfavourable intermediate and high-risk PCa. Certainly there are still a lot of unanswered questions. But we, and our patients, now have an imaging tool that helps us better understand the disease state. So PSMA PET for primary PCa? Yes, please!"
Dr. Walz' presentation followed right after. He said, "The difference between PSMA and conventional imaging is that the former's increased sensitivity detects especially lymph node metastases. But what is the consequence of this increased sensitivity?"
"Should we abandon local treatment in ciM0/miM1? Provide systemic treatment only? Disregard the information gained from PSMA? Choose local, systemic, and metastases-directed treatment? So far we don't know."
He concluded his presentation with a quote from Prof. Henk Van Der Poel (NL), who was attending the presentation. "Care should be taken to avoid unproven treatment decisions that may result in undertreatment [or overtreatment] and finally harm to patients."
Get the full perspective from both sides by (re)watching the presentations. EMUC21 delegates can access all scientific content in the EMUC21 Resource Centre. All presentations, full-text abstracts, and (e-)posters will become easily accessible here during the congress.