Personalised approaches to treating GU cancers
Posted on

November 27, 2021

in News
Personalised approaches such as the use of circulating tumour DNA (ctDNA) biomarkers and genetic testing is the way to fight a disease that does not respond to a uniform approach. During Plenary Session 8 on the third day of the 13th European Multidisciplinary Congress on Urological Cancers (EMUC21) in Athens, experts from different fields came together to discuss efficient personalised approaches to treating genitourinary (GU) cancers.
Prof. Lars Dyrskjøt (DK) opened the session with his presentation "Circulating tumour DNA for decision-making in high-risk and metastatic bladder cancer." He first gave his audience a quick refresher on ctDNA. "Mutated DNA from cancer cells is shredded into circulation. This is named ctDNA, and we can use it as a very sensitive and specific biomarker for tumour burden and metastatic spread."
"ctDNA has the potential to be used throughout the disease course in patients with cancer," Prof. Dyrskjøt stated. "We can use it for risk assessment before treatment and cystectomy, as a profiling tool for prognostication, for early diagnosis of minimal residual disease after radical cystectomy, and to monitor treatment response during, for instance, chemo- and immunotherapy."
Prof. Dyrskjøt mentioned the results from a prospective study he worked on to support these statements. For instance, ctDNA-negative patients were associated with good outcomes – and the other way around. "It is a highly prognostic factor to be ctDNA-positive. ctDNA is highly correlated to disease outcome," he said, referring to the slide below.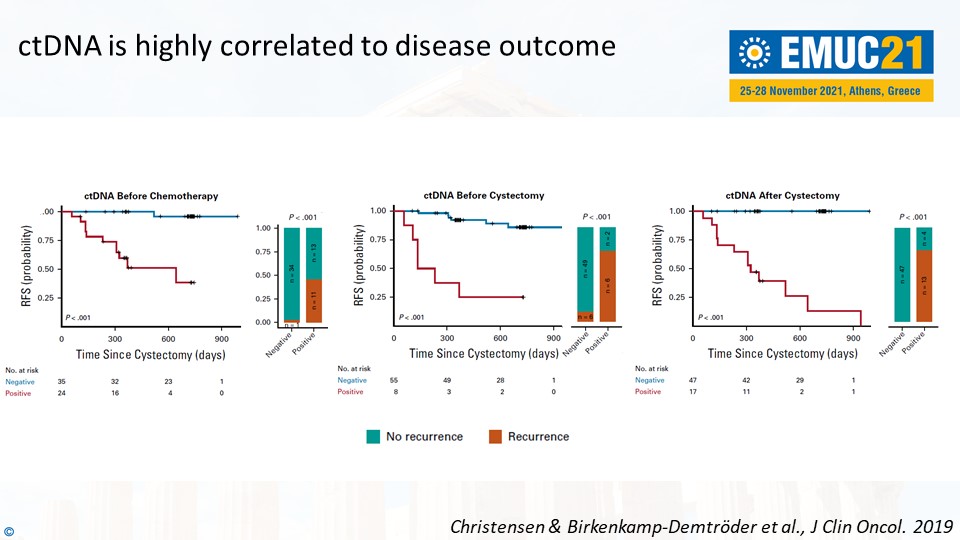 Prof. Dyrskjøt concluded, "What we need to demonstrate now is the clinical impact of ctDNA-based guidance. Can it improve the overall survival? Can it improve the quality of life? Can we reduce costs?"
Practical tips on genetic testing in prostate cancer
In the following presentation, Dr. Elena Castro (ES) gave practical tips on genetic testing in prostate cancer to the attending delegates. "We should consider assessing the HR status early, because it may take some time to retrieve blocks or to consider a re-biopsy. It's good to know that the BRCA1/2 mutations rarely change status over time. Poly (ADP-ribose) polymerase inhibitors are currently approved after progression to androgen receptor signalling inhibitors (ARSis)."
"Finally, we should offer germline testing to all patients with metastatic prostate cancer. Somatic tests are not validated for germline assessment. We shouldn't forget to exclude the potential germline origin of the mutations in the cancer-related genes from tumour analyses."
The other two lectures in Plenary Session 8 were presented by Dr. Maria Rosaria Raspollini (IT) and Prof. Francesco Ceci (IT). (Re)watch all presentations of Plenary Session 8 as webcasts in the EMUC21 Resource Centre. EMUC21 delegates can access all scientific content here. All presentations, full-text abstracts, and (e-)posters are easily accessible in the Resource Centre.